NEIO Fundraiser "Benefit in the Sky" Update – Sponsors, Supporters, and Volunteers
Thank you all for your support, hard work, and dedication. We are excited to see all of you this Saturday at Symphony Towers in San Francisco.
BIG THANK YOU for the following sponsors who have made this event possible…
Luis Ramirez – Green Living Planet
Tum Teevakul – Banana House
Jason Gee – Farmers' Insurance
Jackie Chan – New York Life
Andrew Santos – auntie em's
Eyo – F8 Bar and Lounge
Noah Fierro – Chase Bank
Cindy Ho
and the following sponsors for donating valuable prizes to the event:
Teresa O'Brien Photography
Niana Liu – www.SFlocal.net
Khoi Nguyen
Alex Alanis – Better Homes and Gardens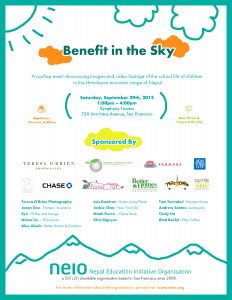 We hope to see you this saturday!