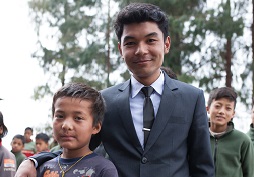 Teacher Sponsorship Programme – a letter from a Nurbuling Teacher
NEIO launched the teacher's sponsorship programme in 2011 to improve the resource of teachers in the schools we support. So far we have hired two teachers at Nurbuling Manichaur Secondary School (in Helambu) including a science teacher. Same programme supported a teacher in Shinhadevi School (in Nuwakot) to attend the teacher training in Kathmandu last year.
One of the teacher on our programme, Sam (Som  B. Tamang) a teacher from Shree Nurbuling Manchichaur School has written us his experience and we would like to share it in here. He has just finished a teacher training sponsored by NEIO in India and we will share the story from him on our next article. Stay tuned.
Shree Nurbuling Manichaur Secondary School
Kharkadanda,Helambu-2,Sindhupalchok
The importance of education is immense in the national development and Nurbuling School has been established to fulfil the need of quality education in the region. To add more to it NEIO's Teacher sponsorship program has made a great difference on the school as well as to the students, school management committee and the parents.
From the beginning Nurbuling was facing lot of trouble for managing sufficient number of teachers. Parents hesitated to send the children to their wards, as they were aware that there's no enough teacher to teach in their wards.
As NEIO's Teacher sponsorship began the situation  has changed. The school management committee became a happier team. The parents developed more trust toward the institution. The children seemed happier than when they had to stay in the class room without teachers to teach them.
The teacher sponsorship program has been a great support for the school and the children. But still till today the need of sufficient number of teachers hasn't been fulfilled. We're running a secondary school which has 12 different grades starting from Kindergarten to grade 10 and the numbers of teachers are just 9 which has been a great challenge for the management committee as well as for the teachers.
Teaching 8 lessons a day plus coping up with different responsibilities they've been given has become a really tough on the teachers. I am afraid that teachers with so many responsibilities other  than just teaching may lead to the decline of the quality of teaching.
To improve this the only option is to implement more teacher sponsorship program at the school.
I can see Nurbuling at its peak within two years if the institution will be equipped with sufficient number of teachers and more teaching resources. The school is located at a fantastic location where peace and harmony are felt once you just enter the school premises.
Nurbuling is truly the best home in the mountains for the smiling faces of the beautiful children, whom we see them as the future of our nation.
Som B. Tamang
Teacher of Shree Nurbuling Manchichaur
 Sec.School